Saturday, October 17, 2015
Tuesday, October 6, 2015
Stepped off my porch this morning to head off to work and noticed a large fishbowl-like container full of FREE BUTTONS. Upon getting a closer look I realized "YES I want one of them buttons".
Moral of the story? My neighbors rule.
Posted by

krista zee
at 2:56 PM
No comments:


Friday, October 2, 2015
Today was one for the history books, 'round the workplace.
My dear friend Joel has left the building.... literally. he is moving on to bigger and better things and I am VERY excited and proud of him.
It leaves me in the dust though- one more person I am used to seeing DAILY who has flown the coop.
Joel and I worked together for 7 years.
We're both turning 37 next month.
That means that we have been 9-5 comrades for 18.92% of our LIVES (who's counting?)
I first introduced this blog's 1.5 readers to Joel back when it began.
We were freshly 30 years old and looking like this:
We've grown up a lot since then........... riiiight?
Does my head look creepily Photoshopped onto the second image?




For Joel's final send-off we got some friends together last night.
Co-workers from the past and present showed up for some fun.
He came.
He saw.
He conquered.
He will be missed.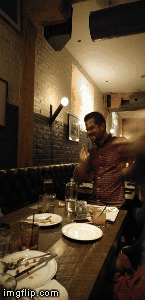 Also he's just going to a new company down the street so we can still have lunch. And who am I kidding I will probably see him at least every week or two.
PHEW!
Posted by

krista zee
at 4:32 PM
No comments: